Nothing quite says winter and cozy like a chunky cable knit! Recently, I was catching up on my pop culture by watching some videos on Vevo. A Taylor Swift video (We Are Never Getting Back Together) came on and in spite of all the random things happening in the video—including animal-costume-clad band members???–I couldn't take my eyes off of the blue cable knit wallpaper or wallpaper/mural in the background. What a fantastic idea! I would love to clad my walls in a raised, paintable, cable knit wallpaper. Makers of bead board wallpaper listen up: Please make us some cable knit wallpaper! 
Taylor's fake apartment wallpaper reminded me of this indigo mural which reminded me…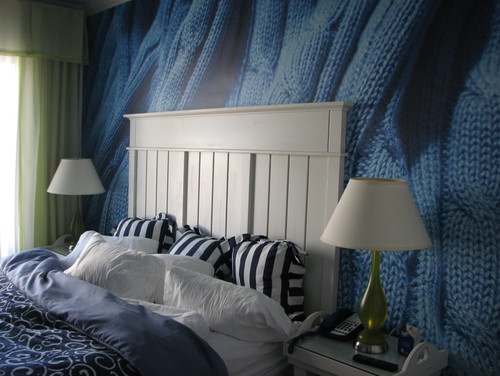 …of my overall love for cable knits! So today I thought it would be fun to explore 15 different ways to use cable knits throughout your home this winter. Grab a warm drink, and a cozy throw (cable knit preferred), and get ready to be inspired!
 1. Cable Knit Wallpaper
Besides the murals pictured above, the only available cable knit wallpaper that I could find online was this one below by Spoonflower. It looks a bit more chain-link to me than cable knit, but I like the pattern.
2. & 3. Cable Knit Throws and Pillows
By far the easiest way to add some cable knit to your home is with a comfy throw or some sweater-covered toss pillows.
source unknown
source unkown
I love this comforter-sized cable knit blanket and coordinating pouf.
4. & 5. Cable Knit Ottomans and Chair Covers
If you are handy with your knitting needles, you can buy this cable knit slipcover pattern on etsy to create a slipcover for some Ikea furniture. Wow, that looks like a LOT of work but so cute!
6. Cable Knit Lampshades
Cover a lampshade in an old sweater to create a cozy look for winter. Just be sure to use a low watt bulb to reduce the risk of a fire hazard.
7. Cable Knit Rugs
Aren't these lovely? I'm sure they might be challenging to clean, but I bet they feel amazing under foot!
8. Cable Knit Deer Head
These "Domestic Trophies" take faux taxidermy to a very cozy level.
9. Cable Knit Ornament
An old sweater over a tennis ball can create an adorable ornament for your tree this Christmas.
10. Cable Knit Coffee Cozy
These would make excellent gifts this holiday!
11. Cable Knit Candle/Vase Cozies
Purchase second hand cable knit sweaters and use the sleeves to create candle and vase cozies.
12. Cable Knit Stool Legwarmers
Instead of felt pads on the bottom of your stool legs, how about knitting some adorable stool legwarmers?
13. Cable Knit Coasters
These coasters have a lovely cable knit pattern imprinted on them. This would be a fun DIY project to try!
14. Cable Knit Pottery
And these pottery pieces are simply gorgeous!
15. Cable Knit Socks
Okay, so socks aren't exactly home decor, but I had to include them. We are part of our homes and nothing says cozy to me like sitting in front of the fire snuggled up with a loved one donning some cute cable knit socks!
I hope you feel inspired to cozy up this winter with some cable knit!