After my recent bathroom reveal and post on how to hang floating shelves, I received a few emails asking me how to decorate shelves. Although there are no hard and fast rules for styling shelves, there are some helpful guidelines to follow. Today, I'll try and demystify shelf styling so that you can create shelves at home that are both functional and eye pleasing.
Principle 1: Create Visual Triangles
The picture below looks a bit weird, but stick with me on this one. There is a well known designer technique which involves creating a visual triangle in your styling. Triangles are eye pleasing and work well to balance out your "shelfscape". Follow the blue and yellow lines below. I have white objects balanced on each shelf in a triangle pattern. The purple line shows the balance of the rattan and the green line show a loose triangle of silver objects. Did I consciously think to myself, "How can I make visual triangles on these shelves?" No. Not at all. I placed objects in a way that just looked pleasing to me and typically pleasing=visual triangles :).
Now it's pop quiz time. Can you spot the visual triangles in the picture below?
How about in this picture? Hint: Connect the blue dishes in an imaginary line, then try connecting the white dishes with an imaginary line, and lastly the green. Do you see the "triangles"? They won't all be perfect equilateral triangles, but you get the general idea of how to group and spread out your layers and colors.
Principle 2: Use a Simple Color Palette & Color the Back Wall
All of the shelves pictured in this post are styled with a color palette using four or less colors. Keeping everything on your shelves within the same color family will give them a "magazine-worthy" appearance. In the picture below pops of yellow are combined with black and white on a ramie colored wall.
Young House Love used shades of blue, yellow, green and white to create these gorgeously styled shelves. The dark blue wall complements the accents and really makes them pop!
Principle 3: Stack, Lean, Layer & Group 
When you are styling each shelf,  be sure to add a variety of balanced heights, layered textures, and groupings of objects. Stacked books make fantastic perches for meaningful objects. Frames layered in front of vases add interest.
Look at Emily Henderson's perfectly styled shelves below. Notice that she has stacked books, perched items on top, leaned objects in front, and layered a variety of textures and colors. Her shelves are so good, let's quickly explore how the other two principles apply here as well. Do you se the visual triangles? Connect the blue books on each shelf. Also notice how the lighter blue vase on the top shelf connects with the blue in the frame on the second shelf and the large blue vase on the last shelf. One more visual triangle for fun: look at the rooster's gold touches, connect those to the gold stripes on the bowl, and lastly to the pile of gold chain on the books. Brilliant! Emily has also used a simple and soothing color palette.
On a bookshelf, try grouping books by size and color and stacking books both vertically and horizontally.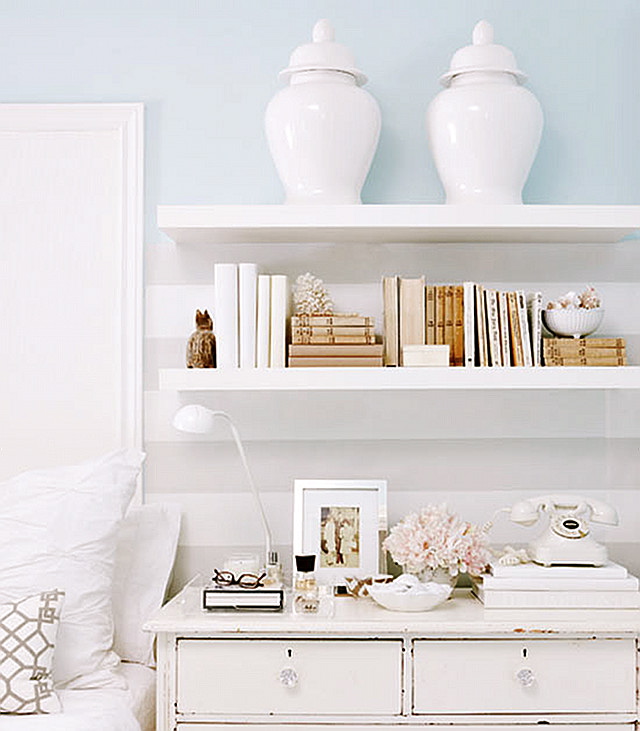 Adding framed artwork, photos, and other objects that hold meaning to you will make your shelves beautiful!
James Ransom Photography via Loft & Cottage
Principle 4: Make it Functional with Baskets
The laundry room below is absolutely gorgeous and the shelves couldn't be simpler! Baskets hide the ugly and contain your clutter. I think they are a must for all functional open shelves!
If you are small on cabinet storage, this is a fantastic option for a dining room. Pick a simple color palette and layer your dishes in attractive groupings inside an Ikea Expedit bookcase. Use fabric or paper-covered magazine holders to hide your cookbooks and utilize baskets and trays to contain linens and silverware.
Here is another good example of an Ikea Expedit bookcase utilized well. Books are grouped by color and baskets hide away any clutter.
So if you want to style your shelves in an eye-pleasing fashion remember to 1. create visual triangles, 2. use a simple color palette, 3. stack, lean, layer and group your objects, and 4. use baskets to hide clutter!
Here is a little bonus for you since a few of you asked for a source list for my shelves. Below is a picture of where everything on my shelves came from. Most of the objects I already owned but a few were purchased to make it pretty yet functional!
How about you? Do you struggle to make your open shelving look attractive yet functional? Any tips to add?