Guess what I learned? If you brag about how little you spend on shoes, show yourself off in several different outfits wearing said cheap shoes, and then top it off by letting everyone know that you still wear bikinis, people kind of hate you. Sorry about that peeps. Won't happen again. Who am I kidding? That's all part of the fun of slumber parties isn't it? Jealousy, envying, gossiping, complimenting, teasing, laughing, and showing off. Virtual Slumber Party #2 was so much fun and was
exactly
what I needed this week! Thanks to everyone who linked up and let us peek into your closet to see your beloved footgear. Here are some highlights from the par-tay in case you missed out:
Haley@HaleyV6 has a thing for sneakers. This is just a small selection of her holy sneakermoly collection. Her $10,000 collection is incredibly impressive. Just kidding. I have no idea how much dough she's dropped on sneaks, but they are each loved and she's a P.E. teacher so they are each a necessity. Right? 🙂
Jenn@West Sac Honey has a thing for heels! Oh my word, you have to visit her to believe this! The pic below is just a small sampling. I'd love to go into her closet and play. I think the doggie is thinking the same thing.
Lianna@Be Thou A Knight has the best organizational system for her shoes. Just look at all those cute labeled boxes! Yeah. Those cuties would last about a day in my closet and then they'd be a big pile of lids and mess. I envy this.
Momma Kiss is one of three bloggers that showed off these fabulous Tar-jay beauties and the reason is obvious. Aren't these fabulous? And at $10 you can't lose. I am so inspired by these, I vow to make them mine! (Insert maniacal laughter here…)
And for all of you Haters out there because you don't have a Gabriel Brothers near you, you have an Angel to your rescue. Yes, Angel@TaDa Creations has found the Gabes equivalent for you online. It's called 6pm.com . For just $7.95 each, she found all of these! Go see for yourself.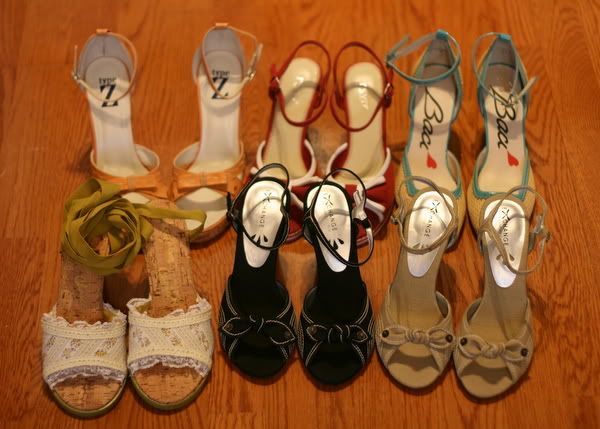 Thanks again for coming to my party :). We'll do it again next month. Stay posted.