Welcome to the 3rd annual Halloween Mantels Link party! I am so excited that you've stopped by to link up or browse some of the most creative Halloween Mantels in the blogosphere. For those of you new around here, you should know that I LOVE creating vignettes and mantels! Here are a few of the Halloween mantels I have created over the years:
Are you ready to see my latest creation? My Halloween Mantel is fresh of the press and was just styled and fluffed a few hours ago. (Nothing like a link party deadline to get a blogger motivated, eh?)
I wanted tall vases with fall arrangements that would transition into Thanksgiving. Today, I hit Michaels and grabbed a bunch of fillers and a few silk feathers. A raven added to the mix always makes it feel more Halloweenie!
 The adorable owls came from Marshall's. Speak no evil, hear no evil, see no evil!
I will have a full tutorial tomorrow on how I created the chalkboard! It's an easy and inexpensive process and will translate well to any holiday!
Here is what it looks like when the lights are dimmed :). So fun!
And now it's your turn! The party rules here are simple. If you'd like to link up, link back. Grab the code for the button below and paste it in html at the bottom of your post so that others can join in the Halloween Mantel Party fun! (You may also link back with a text link if you prefer.) Happy Halloween!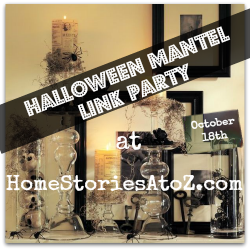 <div align="center"><a href="http://homestoriesatoz.com/?p=8574" title="Fall Party" target="_blank"><img src="http://i916.photobucket.com/albums/ad2/bethcrabtree/halloweenmantelbutton.png" alt="Halloween Mantels" style="border:none;" /></a></div>