Thanksgiving is right around the corner! The blogosphere has been celebrating fall since the end of August so I know you might be tired of it. We bloggers have a way of killing a holiday like the radio kills a good song. But before we break out the Christmas carols and Christmas trees, let's give Thanksgiving it's proper due!
I have rounded up a collection of 16 different Thanksgiving table setting ideas to help us plan ahead.
I love the colors and simplicity of the tablescape below. I love artichokes, so I'd like to eat those decorations.
This centerpiece would go perfectly with the table setting above. I have used the asparagus trick around a vase before and cinnamon sticks around candles. It is such an easy and simple way to dress up your pillars!
This was my tablescape last year just for a simple fall meal, but the idea could be embellished upon for Thanksgiving. I used an old throw as my tablecloth and made some candle cozies to spell the word gather.
Lanterns, pine cones, and an all neutral palette looks just dreamy! Tip: Search Hobby Lobby and Ikea for cheap lanterns.
The picture below is actually from a wedding reception, but I thought it was a fantastic idea for Thanksgiving. Ribbon I tell ya. It does wonders to dress up just about anything!
I like the idea of using family and friends photos in black and white to create a centerpiece. It is a great way to keep the focus of the holiday on those who we are so thankful for. Pears pinned with name tags never get old. This idea has been around for decades and I still love it every time I see it!
The table setting below couldn't be simpler! Place a row of pumpkins, pears, and candles down your runner and you're done.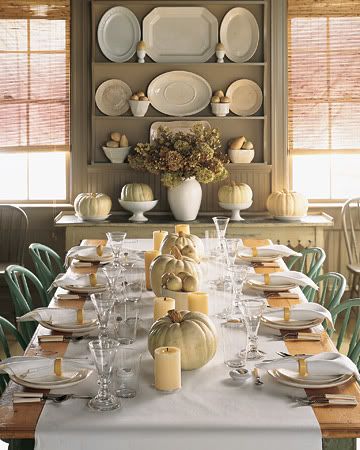 Feathers on the table look fantastic at Thanksgiving! I love the organic touch. Real feathers can get pricey so look for deals on silk feathers at any craft store. I wouldn't recommend using real feathers. Ew. You don't want the threat of avian flu threatening your Thanksgiving ;)!
Instead of a pine cone at each place setting, why not use a sweet gum ball? Just don't put these at the kids' table.  They are too tempting to throw!
Sarah's centerpiece is easy to make and looks gorgeous for everyday use as well. She placed painted pumpkins at each setting which ads charm to the table.
I love this trough centerpiece below! Stuffed with gourds, pumpkins, and candles it displays the bounty of Thanksgiving beautifully.
The chalkboard table runner is from a catalog, but I think you could DIY something similar without too much effort. What a fun way to set up appetizers or a dessert buffet!
This is one of my favorite table settings of the bunch. I love the the coffee filters glued to ribbon on the chair backs. The butcher paper runner is another fantastic idea to steal. And what is simpler than a row of green apples surrounded by gourds?
Don't neglect your kids' table this year! Below is a kids' Thanksgiving table I did a few years ago just for fun. I made a mayflower from a wooden basket using craft foam, dowel rods, and drop cloth sails.
This idea is all over Pinterest and it is just adorable. All of the handmade touches are precious, but my favorite is the upside-down-cup-pilgrim-hat crayon holder
And here is another kids' table using lots of scrapbook paper goodies.
And since I am loving simple this year, I will end with this idea. Pears on top of mini flower pots. Crayons in flower pots. Craft paper with drawn-on place mats and large printed name tags. So cute!
So how about you? Do you have your Thanksgiving tablescape planned out yet? I'll be having Thanksgiving at my mom's house, so I'll let her plan it for us :). I'm so spoiled!