I am sick today. Dropped the kids off at school at 7:45am and then went promptly back to bed. I'm suppossed to pick Zephan up from pre-K at 11:30am but didn't wake up (to the repetitive frantic phone calls and messages) until 12:18pm. Yikes!! So in my sick state I'm cheering myself up by dwelling on a few of my favorite things and sharing them with all of you.
1. Morrocan Oil. I just started using non-sulfate products on my hair and I am in love! My hair glows with Morroccan oil on it. All it takes is a little of the actual oil to notice a big shine. This line is the cheapest I can find so far and you should be able to find it at CVS, Target, etc.
2. Jessica Simpson Crossover Wrap Sweater. Every year I seem to designate some sweater "the uniform". This year this is the uniform sweater. I wear this baby all the time. It's snuggly and warm and yet ventilates nicely so you're not too warm. It's a bit quirky in design (and challenging to get on at first) but super cute with jeans and boots.
3. Chocolate Peanut Butter. I could have an entire blog (not just a post or two…a BLOG) dedicated to my love of chocolate. Eating chocolate is as necessary as breathing to me. At this time of year, "buckeyes" or chocolate peanut butter balls are my favorite Christmas candy.
4. Hot Tea. I am probably one of the few people left who owns and uses a Mrs. Tea (Mr. Coffee's mistress). In the winter I drink gallons of hot tea to try and stay warm.
These are my three current favs: Twinings Prince of Wales, Twinings Lady Grey, and TJ's Jasmine Green Tea.
5. Brown Riding Boots. They're comfy, stylish, with just the right amount of heel and make me feel very much like me. I heart them.
6. Walmart's Canopy Collection Beaded Porcelian Dishes. These are our new everyday dishes. They're cheap, they're cute, and they're sturdy enough for the price. (They also look similar to the Pottery Barn Emma collection which cost 4x's as much.)
7. The Hunger Games I told everyone on facebook yesterday that I just started this series over Thanksgiving and am 100% addicted. I must be very immature because Young Adult fiction is always my favorite! Good to know that I'm in good immature company however! *wink*
8. Target Home Cream Fuzzy Throw. The white throw below is also known in my home as "mommy's blanket". I love this blanket. It works as a great accessory but is also practical. I curl up underneath it at night, sip tea, read the Hunger Games and eat chocolate peanut butter balls :). If you want one, look here.
9. Trader Joe's Chocolate Croissants. I used to live minutes away from a myriad of Trader Joe's groceries. Now I have to drive over an hour to get to one (which I don't do often). If you are lucky enough to have a TJ's near you, do not overlook the Chocolate Croissants. They are amazing! You pull them from the freezer, place on parchment lined tray, and leave uncovered overnight. In the morning, you pop them in a pre-heated oven for a few minutes and are instantly transported to Paris! Delish!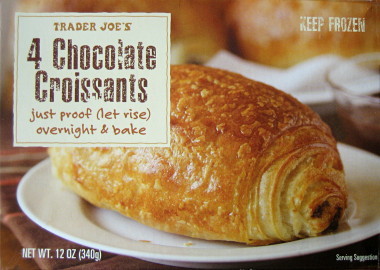 10. One Thousand Gifts by Ann Voskamp. I highly recommend this book if you want to learn how to get past pain and feel joy in your everyday life. Ann is not a stranger to pain and suffering and she explores how to find beauty and God's gifts through it all. Ann is one of the most gifted Christian writers of our time and can make the most mundane situation sing of beauty! (Seriously. She was talking about the wonders of dish-soap bubbles, and I was absolutely enthralled and nearly in tears. Gifted, I tell ya.) For you iPhone, iPad, and Droid users there is also a free app to help you track your own 1000 gifts.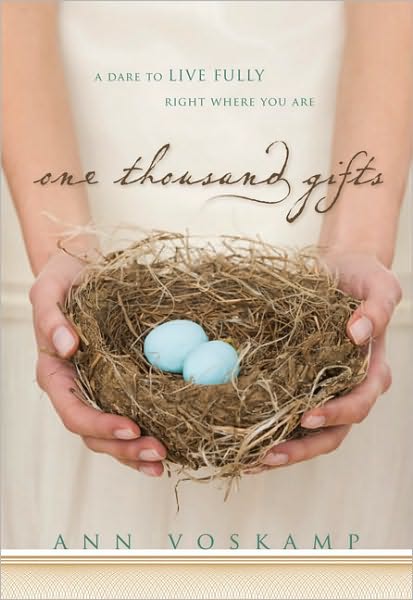 So how about you? What are some of your favorite things? Want to see some other lists? I'm linking up to Nester's Favorite Things party.
p.s. Did you see the giveaway going on right now for the Extend A Ladder? It could definitely be on a favorite things list! Click here to enter.