Get those mantels ready ladies because tonight at 10pm the 3rd Mantel party begins! Did you miss out last week? Well let me highlight just a few of my favorites for you then.
I ran across this de-manteled mantel and was so impressed with the transformation that I asked her to link up! You need to visit
Cat@Everything Design
for the full story and before and after pictures.
I also begged Chari@Happy to Design to join us last week. (No, I'm not above begging if it means we get more fantastic eye candy like this post.) Isn't this simply gorgeous? Again, not a mantel in sight, but that is what I am trying to get through to you all. It is a mantel party that you can join even if you are mantel-less! Buffet tables, tops of bookshelves, dresser tops, etc. can all be your made-up mantel.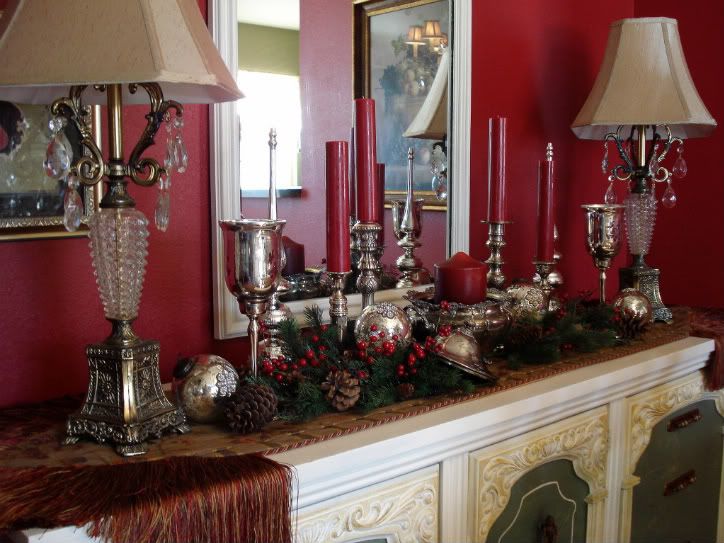 Amy@Playing Sublimely was inspired by Pottery Barn to create this gorgeous masterpiece. Aren't those painted candles fantastic?
Christen@Making a Home the Creative Way was inspired by her Michigan weather to create a wintry wonderland inside her home. Christen, I want those sparkly sticks!
Kelly@Domestically Yours has a beautiful mantel that is refrishingly simple.
Pam@Frippery inspired me with her sweet sentiments and beautiful Winter Wishes banner.
Kim@Starshine Chic retweaked her mantel just for us.
Jane@Blondie's Journal shared with us her bird inspired mantel. Jane, I love your mirror and birdcage!
And lastly, Miki@House of Beauty and Culture, also inspired by some of her own birds, showed us this beautiful vignette.
I have had several of you tell me that you would love to join the party but do not own a mantel. No excuses. You do not need a mantel to join. I have also had some of you tell me that you are, and I quote, "waiting for inspiration to hit". Consider yourselves hit!
Mr. Linky will be here later to greet you! See you then.