Before I do the review, I would like to address the following comment.
Beth, I would really like to display your "Mantel Party" button on my blog, but I am embarrassed by
the misspelling of the word "mantel". The correct spelling is "mantle".
Um, anonymous, no. It is not. I actually covered this in a previous post, but let's review it one more time, shall we?
mantel
,
(less commonly)
mantle
n
1
a wooden or stone frame around the opening of a fireplace, together with its decorative facing
2
(Also called)
mantel shelf
a shelf above this frame
(C15: from French, variant of mantle)
Do you see that? It says both are correct and that "mantle" is the LESS common way to spell the word. So, for all of those concerned by my apparent lack of education, please feel free to display my button proudly. I personally love it when you can spell something two ways and be equally right! How often does that happen? Grey and gray? Blond and blonde? We should celebrate our mantel mantles by spelling it anyway we pleasey please!
Okay, let's start that celebration. This week we had some really fantastic Valentine's themed mantels. This is just a sampling for those of you who have yet to pull out your red hearts and love banners.
The Feitner Adventure
I am a sucker for barn stars, lanterns, and cake stands so she totally had me on this one!
A Santamaker's Journey
You must see all of her photos! They are as gorgeous as her mantel. Don't you just love that birdcage?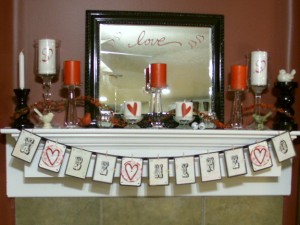 Alecia's Decor and More
I never would have thought to hang a curtain rod over my mantel or to put wreaths on each end! Such a creative idea.
Our Nifty Notebook I love the ragamuffin garland and her cute heart wreath. I also love the idea of framing a piece of child's artwork!
Tattertots & Jello She's been featured before, and I hope I will get to feature her again. I love everything about this mantel!
Just a Girl This mantel proves that just a few simple touches can update your mantel for the holiday. You don't have to change everything to be festive!
And the lucky winner of the placecards from Lovely Scribbles is:
One Cheap B*tch
! Congrats! And no, I have not lost my mind and started cussing out fellow bloggers, that is actually the name of her blog. Uh, One Cheap B*tch, feel free to contact Nikki directly to submit your contact info.
I hope to see everyone else back here next Friday for another great party! Thanks to everyone who linked up this week. You inspire me!