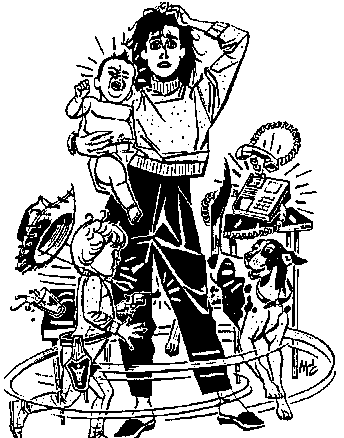 I had been driving home from Virginia for 51/2 straight hours with two cranky boys and a dog. I was tired, hungry, and not-at-all looking forward to unloading the car by myself. I pulled up to our unusually crowded street and muttered incantations under my breath over the lack of good parking spots. Now began my job as a shepherd. I tried to safely round up my dog and two little sheep. I had Asher by the hand,
Zephy
on my hip, luggage on the other, and
Gandalf
by the leash. All was going well until I tripped up our steps and dropped them all.
After everyone stopped crying (and yelping), I ordered Asher to try and go to the bathroom while I changed Zephan's diaper. Zephan had been previously "glutened" by some unsuspecting wheat product, so the diaper change was not going well. When we had finally gotten things satisfactorily under control, I went to check on Asher's progress. I was surprised to find the bathroom empty and Asher hiding under a blanket on the floor. The all-too-familiar smell told the rest of the story. For whatever reason, Asher had not made it to the toilet either. And so…I began my job as Bathroom Attendant and performed the demeaning tasks that seem to define these early years of motherhood.
These are the moments that don't get captured by my camera. These are the moments that my worst self is often brought to the surface. These are the moments of a frazzled mother.
It is in these moments that I fantasize about pressing rewind to my past or fast-forwarding to the future. Covered in someone else's crap, it is hard for one to cherish these moments.
When I had finally gotten the boys down for the night and was able to think back over the day, I was disturbed by ugly images of a crazed mother losing her temper and threatening another time-out. I sat at my computer feeling guilty, justified, and sorry for myself. I prayed for endurance and began working on my course lectures for my "other" job. While working, I divinely stumbled upon the following essay. And although I don't agree with the overly fatalistic and deterministic tone of the essay, I did find it a wonderful reminder to cherish these moments.
Living in the moment is always hard for me to do…especially when the moments are poop-covered. But, I love my little boys and I know that this time is fleeting. Thank you, Lord, for the reminder that I am a "creature of special privilege". (Even if my trouble and bother and weariness aren't quite so "unutterable"…)
Little Boys
by Marjorie Holmes
Your little boy awakes and cries because of a bad dream.
His hot small body clings to you as you sit on the edge of the bed. You feel the firm curves of it through the thin crumpled pajamas. His fat cheeks are moist and the tips of his lashes are moist and fragile, too, against your cheek.
You hold him on your lap and comfort him and know the joy of holding and comforting him, of being his mother to whom he turns when unhappy or afraid.
You think of some fracas in the yard, his demanding in a plaintive howl, "Mummy, help! Billy took my shubble!" And though he is sent back usually to settle the trouble himself, it comes to you with some thrilling sense of wonder and privilege how good it is to be, for this little while, supreme commander of his day. The person omnipotent, who is empowered and entrusted to heal all hurts, answer all questions, meet all his many demands.
And holding and comforting him there in the dark, you think how soon he will be a big leggy boy, remote and roughly shy, not wanting your caresses any more.
And how he will become a man and go away from home and perhaps do splendid things, things of which you'll boast, but in which life gives no mother any real part. How you will become a shadowy figure to him, someone of whom he thinks with fondness and tenderness and concern, perhaps, but no longer vital or essential to him, because that is life's way.
And it comes to you how brief and filled with glory are these early years of parenthood.
How those who are young mothers are creatures of special privilege, for all the trouble and bother and often unutterable weariness we know. How we should live every moment with our youngsters to the utmost, creating bright memories and hoarding them like riches against the inevitable loss to come.
Few, so tragically few of us, have the faintest conception of what other, older women feel.
"This is my son!" they proudly say, taking a photograph from the mantel and speaking of his accomplishments, while we murmur polite admiration.
This night, however, holding your own little fellow, you begin to understand:
He is lost to them. Gone. But in showing his picture to others, speaking of him to people who can't possibly care, they are recreating him for themselves. Bringing back the little boy who woke up crying in the night, who could be comforted, caressed, and held close against his too swift growing up.