Today we're going to play a little game of dinnerware doppelganger. (If you're unfamiliar with the term, a doppelganger refers to any double or look-alike of a person.) I want to show you how I consistently find catalog look-alike dishes, for much, much less than the original price. If you keep your eyes open while shopping, you too will undoubtedly score some doppelganger dinerware! Let me show you some recent items I've scored.
This weekend as I was browsing through my Ballard Designs catalog, I couldn't help but smile when I came across this:
In case you can't see the fine print…Bee Glassware wine glasses $45 for a set of 4. I smugly walked over to Matt and pointed to the catalog picture, "Do these look familiar babe? Just look at that price!" I quickly grabbed one of my glasses, still bearing it's price tag (man those things are hard to remove), and thrusted it excitedly in his face. "Booyah!"
In case you can't see that not-so-fine print, it says $1.99 per glass! That is $8 for a set of four! I found these bee glasses a few months ago at a store called the Christmas Tree Shop and knew they looked familiar. More importantly, I thought they were adorable and would be fun to drink iced tea from. At $2 a glass, I splurged and picked up 6. Although they are not perfect and one of the glasses has a slight bubble in the glass, they are adorable. If you're willing to give up perfectionism, for goodenoughism, then a bunch of affordable pretties can be yours!
Okay, let's move on to Exhibit B. I had been in search of some pretty white dishes for a few months, and I knew what I wanted to spend on them….less than $100 for an entire set. I had looked at some thrift stores, some discount stores, and my beloved Christmas Tree Shop, but nothing was doing it for me. I really liked the Emma plates by Pottery Barn and wanted something similar to those.
Then Chris posted these gorgeous Dollar Tree plates (yes….DOLLAR TREE!) and I about died! They look almost identical to the Pottery Barn dishes. Unfortunately NONE of my Dollar Trees carry these plates; however, I'm told that some carry the dinner plates, salad plates, mugs, and bowls. Lucky you if you find them!
I was determined to find something similar and then came across these plates at Walmart. Yep. Walmart! I bought two boxes  of these dishes and I love them! They are called the Canopy Collection Beaded Porcelain and currently run $39.96 for a set of 16. Tip: Order them site to store to save on shipping.
And here is Pottery Barn's Emma Dinnerware Collection, on sale for $142. Pretty similar, eh?
Let's move on to Exhibit C. The look alike Crate & Barrel pitcher! I found this pitcher at the Christmas Tree Shop and I honestly can't remember what I paid but I think it was less than $10. I've always admired the one from Crate & Barrel and this pitcher is practically identical!
The Crate & Barrel version runs $26.95 which really isn't that bad for a pitcher, but why pay more if you don't have to?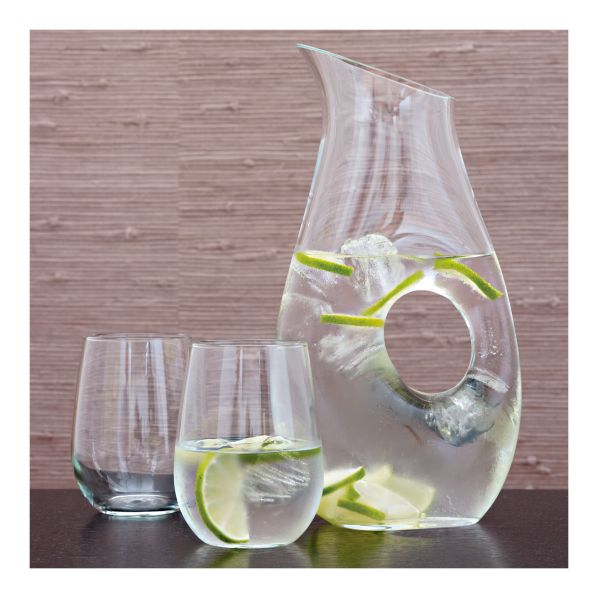 And lastly, I have Gina from The Shabby Creek Cottage to thank for my William Sonoma doppelganer single serve trifle dishes. Gina wrote how she found these adorable trifle dishes at the Williams Sonoma outlet only later to find the EXACT same ones at Walmart for less. We use these little bowls every day for yogurts, cereal, ice cream, sauces, and even small flower arrangements. Love them!
Okay, so let's break it down cliff notes style:
It just goes to show that if you are observant and determined you can find the look you want for less! How about you? Do you have any doppelganger dinnerware scores or tips to share?