Welcome to the party everyone! I was hoping to have the feature post up on the blog today but it will go up first thing tomorrow instead. I've been caring today for my poor baby pomeranian, Pippin, who is currently donning the cone of shame. He is 6 months old and had his snip-snip surgery today as well as several teeth pulled with dental extraction surgery. He's only 9 lbs and not feeling so well and wanted his mommy all afternoon…and his horsie chair that is headed for Goodwill–or maybe not.
Let's see what you have created this week! Remember that everyone with a tip or tute is welcome to link up but only those who link back to me within their post will be featured.
Party Rules
Any tip or tutorial is welcome! Decorating, holiday ideas, room makeovers, cleaning tips, recipes, crafts, and sewing all count.
Keep content fresh! Please do not link the same projects week after week. I will delete posts that you've linked up here several weeks in a row.
If your post has been featured in a Tutes & Tips Not to Miss, please do NOT link it up again.
Please don't link up giveaway posts.
Link back. I only feature those who link back to me within your post.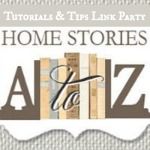 <div align="center"><a href="http://www.homestoriesatoz.com/" title="Home Stories A2Z" target="_blank"><img src="http://i916.photobucket.com/albums/ad2/bethcrabtree/tutorialsandtips-1.jpg" alt="Home Stories A2Z" style="border:none;" /></a></div>