You all I am exhausted! I forgot how long it takes to make a cake from start to finish. Asher turns 7 tomorrow and requested a Kung Fu Panda party to celebrate his big day. I have made a themed cake for every year of my boys'  lives and they look forward to it ALL year long. No joke….they talk about what kind of cake I will make for them the entire year. I'm not a great cake decorator, but for my guys' I try my best :).
I found an inspiration pic from a real baker and copied the look. Unfortunately I didn't ask you all on facebook how to create pure white frosting until after I had already made my "heirloom white" frosting. Sigh. Live and learn.
Years ago I received a Betty Crocker Bake 'n Fill Pan which looks like this: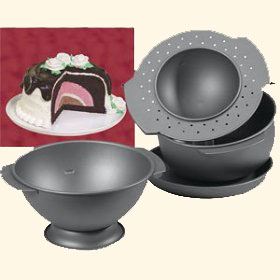 I used the bowl part of the cake and baked two cakes to create a ball. I made my favorite buttercream frosting and just blooped on some "hair" using a tip stuck inside a freezer bag. The nose is a gluten free brownie (so Zeph has some cake he can eat tomorrow) and the ears are oreos covered in marshmallow fondant. The eyes and mouth are purely marshmallow fondant which is very messy to make but not hard.
Asher is beyond thrilled with his cake so it's all worth it!
Okay, drum roll please….random.org has spoken and the winner of Hometalk's $100 Pottery Barn gift certificate goes to Kathleen from Charm Bracelet Diva! Congrats girl! Hundreds of other people now hate you :).
I'm excited to see what you've been up to this week!
Here are the rules of the party:
Please do not link up a project that you have linked up here on previous Tuesdays. Let's keep it fresh!
Please link back. You won't be able to link up if this url isn't on your post BEFORE you link up.
This is my homepage link. You need the www for some strange reason. http://www.homestoriesatoz.com