I have had my eye on a few X leg ottomans, X leg benches, and X leg stools for awhile now! Perhaps it started with my X headboard. I don't know quite what it is about the simplicity and beauty of X leg furniture, but I am loving it all! I saw this X leg ottoman online at Lowes.com (by the way, who knew that Lowes sold furniture online???) and thought it would be a fantastic and versatile piece to own. The price-tag, however, was not so fantastic at $272.73.
I figured I could make something similar for a lot less money, so I hit the internet to see if any brilliant bloggers out there had already paved the way for me. Low and behold a few had! Jennifer from The Chronicles of Home has a fantastic tutorial for a DIY X Leg Upholstered Bench that I used as a guide for this project. I adapted her plans a bit which I'll outline in this tutorial.
DIY Ottoman
Let's start with a shopping list! It's always good to know what items you'll need to purchase before tackling a project.
Materials Needed for X Leg Ottoman:
4 1″x2″x6′ Red Oak Boards (or wood of your choice)
1 2″x2″x36″ Red Oak Square Board
1 3/4″ 2×2 plywood piece
Tape measure and pencil
Nailgun (or hammer and nails)
Staple gun
Wood glue
Compound Miter Saw
1 1/2″ wood screws
Drill and bits
Clamps
4″ foam batting
1 yard of material and batting
Upholstery tacks or upholstery nail strip
Paint or stain
(Optional) wood putty to fill nail holes
Always remember safety first when tackling any DIY project! I am an amateur and make plenty of mistakes along the way, but I always try to DIY as safely as I know how. Follow all of your manufacture's instructions and remember to tie your hair back, push your sleeves up, and wear your safety glasses and hearing protection when operating your power tools.
Step 1: Cut Your Wood
I took a risk and switched up the measurements a bit from Jennifer's X leg tutorial. I'm horrible at math and should have known better than to change it up, but I did it anyway. In this tutorial, I'm going to give you the measurements I used, but if you try this yourself you may want to use Jennifer's measurements. My ottoman turned out beautifully and is still a 17″ square that is 17″ tall x 17″ wide, but my "X" starts in about a half inch from each side—instead of being flush to the corner. Not a big deal, but it is a result of the changes I made.
1x2x6 Cut one end of your board at a 50° angle. Measure 19″ from the pointed end and cut another 50° angle. You will do this 4 times giving you 4 identical 19″ long pieces.
1x2x6 Cut one end of your board at a 50° angle. Measure 8 3/4″ from the pointed end and cut the other end a 9° angle. You will do this 8 times giving you 8 identical 8 3/4″ long pieces.
1x2x6 Cut 17″ straight piece. You will do this 2 times giving you two identical 17″ straight pieces.
1x2x6 Cut 13.5″ straight piece. You will do this 2 times giving you two identical 13.5″ straight pieces.
2x2x36 Cut a 14″ straight piece. You will do this once. (This is your center support between the x's.)
Take your 3/4 inch thick plywood and cut a 17″x17″ square.
Step 2: Sand Your Wood and Glue it Together
Use a sanding block or your palm sander and gently sand all of the rough edges of your wood.
You are now ready to make your X-legs! Place a 19″ piece of wood on your work surface and then glue on 2 of your 8.75″ pieces on top of the 19″ piece. Do this same process on your other 19″ piece and cross the two to make an X. Make sure everything is lined up and clamp in place. Allow to dry for 24 hours.
Once dry, use your nailgun to nail the pieces together.
Step 3: Use a Pocket Hole Jig to Ensure Stability
This step may not be necessary, but I added it to ensure stability of the ottoman. I used my Kreg jig on each side of the X to create pocket holes to adjoin the X.
Step 4: Glue and Nail Your Center Support
Place one of the X's on the floor and put a dab of wood glue in the center. Place the 14″ piece of oak in the center and then place your other X on top. Glue and nail in place. Tip: To ensure that the X's are even and your base isn't wobbly, draw a pencil line around where your 14″ pieces meet on each X. Make sure that they are lined up before nailing in place.
Step 5: Complete Your Frame
Place your 17″ pieces on top of each X and pre-drill holes for your wood screws. Drill your wood screws in place.
I thought at this point that the frame looked a bit unfinished so I decided to finish off the box and the top by placing a 13.5″ piece of wood to fill in the gap on each side. I used my nail gun to nail them in place.
Step 6: Fill in Holes and Paint or Stain
Use wood putty to fill in your holes and then paint or stain your base. I primed my base with Zinnser spray primer and then used white wood stain to finish it off. I also caulked any gaps with white painter's caulk.
Step 7: Make Your Cushion
While you are waiting for you paint or stain to dry, work on your cushion. Mark your foam around your 17″x17″ plywood and cut your 4″ thick foam cushion using a utility knife. Cover the foam with a layer of batting and staple in place. Cover your square with your material and pull as taut as possible on two opposing sides and staple in place.
I couldn't manage to get a good picture of how I folded the corners. Basically you want to take your material and tuck it in to create a nice straight pleat on each corner. I cut off some excess material at each corner, and tucked it in until I was pleased with the look. Just keep messing with it until it looks neat and tidy and then pull, pull, PULL and staple into place.
Step 8: Add Nailhead Trim
I have no patience for measuring and nailing in 100 upholstery tacks in a straight line, so I like to use prefabbed upholstery nails. You only have to place a few tacks in place and you don't need to do a lot of measuring. The disadvantage of course is that it costs more. I got lucky and found an entire roll of this stuff a few years ago at a thrift store.
Step 9: Attach the Top to the Base
Flip your cushion over and place your base on top. Pre-drill holes into the center of each plank and secure with a 1 1/2″ wood screw on each side. Congratulations! You just made an X leg ottoman!
Step 10: Admire Your New X Leg Beauty
I love how it turned out! It's a little farmhouse and a little glam–just the way I like it!
Please visit 3MDIY.com to see other fantastic project plans by fellow bloggers!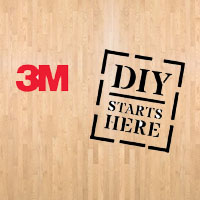 This post is a collaboration with 3M DIY. To enter to win free samples for your next DIY project, visit 3MDIY.com Content and/or other value provided by our partner, 3M DIY.