If you recall, we used to have a weekly mantel party here, and then…it died. I killed it. And now, I regret that decision. I miss your mantels. I miss you. I miss looking at your mirrors, and frames, and flowers, and candlesticks, and bird nests, and brilliance. But we all decided that mantels were not inclusive enough and discriminated against those of us who are mantel-barren. We all decided that mantels are NOT meant to be changed weekly. We all decided it was time for a change.
Therefore, allow me to introduce you to the new party. Drum roll please……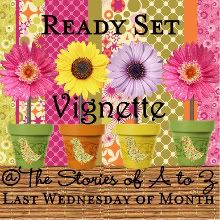 Get your flat surfaces ready because

party is on

the last Wednesday of each month. We'll kick the party off next Wednesday! Uh, because it's the last Wednesday of the month. See you then…candles, bird nests and all. Feel free to grab a party button if you would like to help me spread the word. I tried to make it scream Spring because that is just the mood I'm in. Wahoo sunshine! If you need the button to be smaller, just holler. I can make it happen. Happy vignetting peeps!