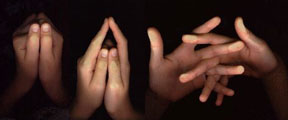 We recently returned from a trip to Virginia to visit my family. It was wonderful to spend time with my parents, sisters, nieces and nephews, but it was also very stressful. Asher was overstimulated most of the time and therefore had
many
more meltdowns than usual. Zephan was clingy and was…well…himself which is a lot to handle on any given day. So although I always find it difficult to leave my family, this time I was ready to return home and return to our routine. Asher, who had an absolute blast picking strawberries at a farm, seeing dinosaurs at a science museum, playing in the water fountains at the Botanical Gardens, and watching animals at the zoo, felt
very
differently. On the way home, our conversation went something like this:
In typical Asher-fashion, Asher compulsively asks a question to which he already knows the answer in hopes that this time the answer will be different. "Mommy, Daddy, where are we going?"
"Asher, where do you think we're going?"
Said rather angrily
, "We can't go to Harrisburg because it costs too much money, so I think we need to go to the library!"
Parents patiently explain for the umpteenth time that we are not headed for the library and that it is time to go home.
Realizing that he's not gaining any ground with the "costs too much money" defense, Asher changes tactics and pleads his case with an object lesson
. "You see it's like this,"
dramatically interlacing his fingers for effect,
"Here is Harrisburg…you open the doors and…Harrisburg gots no stuff in it!"
Parents trying to suppress their laughter, "Asher, what kind of stuff do you wish Harrisburg would have?"
"Well, like dinosaur robots, and zoo animals, and like….well….COUSINS!"
Morgan, Madison, Matthew, Marky, and most of all Evie…you are very much loved and very much missed! Asher cannot wait to see you again and asks daily when we will be back for another visit.