What would a holiday be without a marshmallow peep post from me?  I seriously don't think I can let a holiday pass now without creating some sort of marshmallowy yumminess.  Scratch that. My kiddos won't let a holiday pass without requesting a marshmallow treat.  They are so spoiled…and hyped on sugar.  For this treat you will need some peeps, melted chocolate chips, and some sprinkles or jimmies (depending on what part of the country you are from :).
Pour about 3/4 C of chocolate chips in a microwaveable bowl and add 2 teaspoons of shortening or veggie oil.  (This helps the chocolate set-up and look smooth and pretty.  It doesn't change the taste of the chocolate.)  Melt the chips in the microwave at 30 second increments and stir with a spatula.  Once the chocolate is all smooth and delicious, allow your chicks to swim in the chocolate pool two by two.
Once your chicks have had their chocolate bath, dip them in some sprinkles.  (I bought my little tub of sprinkles at Target's dollar spot.)
Place the chicks on a sheet of waxed paper and pop in the freezer for a few minutes until set.  Place them on a pretty plate and admire.  You're done!
Love birds lovely enough to eat.
These birdies would be cute packaged in cello and tied with a bow.  If I can keep my 
self
family from eating them all, I might just do that and distribute them to neighbors!  Let me know if you make some.

Don't forget that the Show Me Your Shoes Party is scheduled for this Thursday.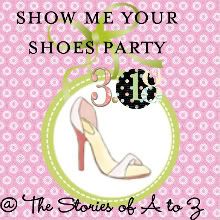 I will be having a giveaway worth $200 coming up, and those who post are automatically entered!