This time of year always trips me up. Do I decorate the mantel for fall, and then for Halloween, and then back to fall again, and then before you know it it's time to decorate it for Christmas? I love mantel decorating, but gooooodness that's a lot of mantel switcheroos taking place. Hmmmmm. Maybe I'll try to keep things simple this year and just add some Halloween, and then add some Thanksgiving when it's time. Pfffffttt. I say that now. Who am I kidding? I'm not really known for my minimalism. But I digress…what is my point here? Do I have a point? Are you still there? Bueller? Anyone?
Ah yes, mantels. I like them. I need some inspiration for Layla's upcoming fall mantel party and figure you might too! Let's get to it…
Click on the pictures to be taken to the source.
This entire room looks so warm and cozy. I want to snuggle up with that dog, read that book, and sip on some of that tea! I love the metal tree as a focal point and how the wooden candle sticks, bowl of nuts, and garden clippings compliment the earthy tones in the room. Isn't that wallpaper fun for fall and winter? I might be sick of it come spring, but it's adorable.
Many of you feel sad because you don't have a mantel. Don't be sad! All you need to do is get creative with a shelf. I love this simple display of gourds, berries, and a cornhusk wreath over the mirror.
I think this is my favorite mantel! I love that it's non-traditional in gorgeous green and white and so simple. The wreath is made from snowball hydrangeas and the white handled bowl is a chamber pot! LOL!
Varying shades of pumpkins, cute vintage tags, pine cones, and a few sprigs of green make for a gorgeous display! Again, the simplicity is attracting me here.
Nester's mantel last fall was lovely. We've all steered away from family portraits over the mantel so it's ironically refreshing to see one up there again. I like how she used her blue pumpkin in the center and picked up the blue tones in her vase and monogram.
I'm always a fan of Laura's mantels. She has a true eye for design. Love that pallet piece with the hydrangea basket wreath.
And if you've never seen one of Michelle's mantels, well you need to! In fact ,read up on how she created her entire mantel surround. It's gorgeous and her mantels never disappoint.
Emily's mantel from last year is so unique and original and I jut love it! It's simple, chic, and says fall without being themey.
Now, what do we have here? What a fantastically gorgeous-looking mantel! Okay, so this was actually my winter mantel from last year, but it really looks more fallish to me so I'll include it in the bunch.
And of course we couldn't have a fab fall mantel review without including this perfection below. The barn picture that Kevin took, the vintage frame, the Gather sign, and the adorable firebox vignette…LOVE it all. Yep. Layla is the mantel whisperer. I look forward to her displays every year, and this year we'll get to see her latest creation on Tuesday, September 27th for the It's Fall Y'all party.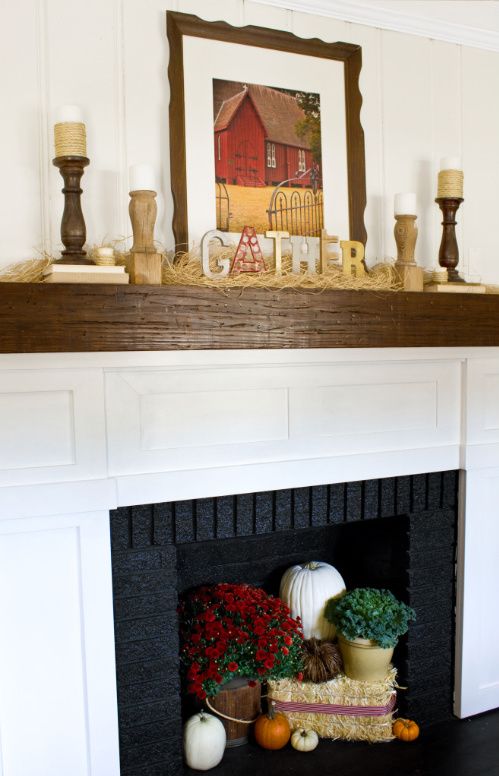 So glad I have an entire month before I need to throw together a mantel. I have too many directions I'd like to go in right now.
How about you? Are you ready to bust out your pumpkins and mums or are you thinking of going a more non-traditional route this year? Talk to me!