My challenge, if I choose to accept it, from my little sister:  
A friend's husband is returning from a year-long deployment. Her friend is throwing a shower for 

her, sort of like a bridal lingerie shower, to celebrate their upcoming reunion. I need a 

gift idea

. Okay… go! 
You know I can't refuse a challenge Chrissy!  So here is what I've got for you on the fly:
1. Romantic Gift Basket:  This idea is obvious but always a crowd pleaser.  To cut down on cost, buy your basket from Goodwill and spray paint it if need be.  Fill the basket with wine, chocolates, crackers, and cheese and you have yourself a date-in-a-box…or…basket.
2. Altered Altoids Tin:  Since you left your challenge/comment on my Altoids Tin post, I have them on the mind.  Here are some things you can do with those little mint containers.
Fill with a giftcard for a date night out.
Just make it cute and fill it with something!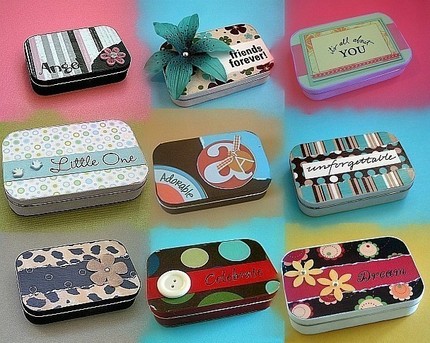 3.  Sexy Quote Jar:  Take a mason jar and decorate it like a bustier.  Fill it with romantic quotes or questions.  The jar pictured below is filled with kisses and says "Kisses 4 You".  This is a cute idea, but not necessarily appropriate to give to a friend.  I'd stick with romantic questions!

4.  Do Not Disturb Sign:  Make a Frenchy sign for their bedroom door.  You can buy a cheap sign, spray paint it white, print out the words and Mod Podge them onto the sign.

I'm getting ready for a trip so that is the best I can do for you in a half hour or less.  Anyone else have some ideas to contribute?  I'd love to hear them!