I write for Homes.com and they gave me the challenge of taking an outfit I loved and creating a room design from the inspiration. What a fun idea! Fashion and home decor frequently go hand-in-hand. If you're ever stumped on how to decorate a room, perhaps you need look no further than your closet!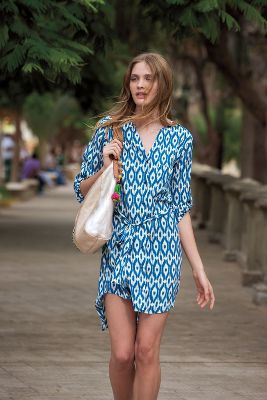 I saw this fun Anthropologie blue and white ikat dress paired with the boho-chic bag and analyzed the colors within the picture to piece together the following mood board….
As you can see, I didn't just focus on finding home elements but chose items with the colors and textures that captivated the mood I wanted to create in my room. The ikat design on the dress was the main inspiration for the entire room; however I also loved the the chevron and pops of bright colors on the bag. The mix and match of patterns is bold, playful, yet at the same time chic. Ready to see this outfit translated into home decor?
Drum roll please…….here is the final room design!
As you can see, the ikat chairs mimic the dress while the pillows pick up the colors from the bag and flowers. The mirror mimics the gray from the polka dot napkins while the chevron rug imitates the chevron napkins and ribbon on the bag. The side table in coral pink has a great sheen and texture like the earrings. The coral lamps, buffet, mirror, and white walls ground the room and remind me of the metallic on the bag. All in all, the mix of colors, patterns, and fabrics is unexpected yet it somehow works.
I hope next time you're grappling with ideas for redecorating, you'll consider looking no further than your favorite outfit for inspiration!