Fall is officially upon us and where I live the temperatures are dropping, the leaves are changing, and the outfits are getting cozier! Today I thought it would be fun to demonstrate how to "cozy up your decor" using inspiration from your favorite fall outfit.
My favorite fall style can be defined as Farmhouse Glam–think jeans with brown leather jackets and diamond earrings. Farmhouse glam is known for pairing unexpected items in neutral colors, with varying textures, to create a down-to-earth elegance. In the picture below, you can see how the rustic barn is wedding-attire-ready with a textured straw wreath, flowing white curtains, and wheat candelabras. The neutral tones and layered textures create a look that is approachable yet luxurious.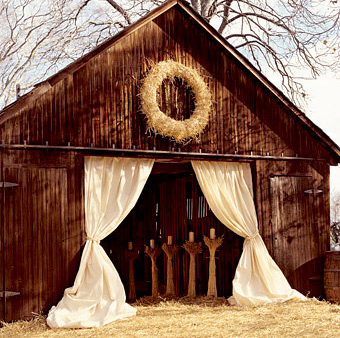 Here is an example of a lovely farmhouse glam outfit that I would gladly wear! Skinny jeans, a military-style tweed jacket, leather utilitarian boots and bag, are paired with a feminine cream sweater and girlie accessories. The flower earrings and coordinating sunglasses are unexpected in the mix and soften the outfit.
*Update: If you love the outfit, click here on my 21 Outfits for Fall post and then scroll down to the bottom of that post. You will see this outfit (along with 20 others that I put together) with all of the thumbnail sources listed below each one.
Using the above outfit as inspiration, we can create a similar farmhouse glam look within the home. Below, I mixed rustic walls, white-washed wood floors, a brown sofa, and two neutral chairs to create the staples of the room. These are the equivalent to my jeans, boots, jacket, and bag if you will. In keeping with the rustic-chic look, I placed white-painted tree stumps as end tables and a cowhide rug on the floor. Also notice that the toss pillows on the couch are a mix of feminine and masculine. The belted pillows are paired with feminine floral pillows. The touches of gold in the room are inspired by the earrings and sunglasses.
So how do you pull this off in your own home? Here are three tips to help get you started.
1. Pick your favorite fall outfit and analyze what you love about it. Perhaps for you it is all about the colors, or the texture of a cozy sweater. Begin thinking about how you could translate this look into a room.
2. Pick a room in your home that has similar staple colors and begin planning what elements you would like to incorporate from your outfit. For example, my living room has white walls, a neutral jute rug, and brown leather couches. I could easily create a modified farmhouse glam look by incorporating some similar pillows with natural elements and gold accessories.
3. Decide upon your budget and modify your room plan accordingly. Most of us can't afford to completely overhaul an entire room; however, we might be able to incorporate the look we desire on a smaller scale above the mantel or in an entryway. Small decorative accessories and do-it-yourself projects can cut costs and still provide a new look!
I hope you feel inspired to look at your fall outfits differently and to surround yourself with whatever makes you feel cozy and warm this season!