I have introduced Julie to you before when she allowed me to share her darling Boys' bedroom ideas with you. Julie and I met as coworkers while working together as school counselors in an incredibly challenging school district. We bonded as kindred spirits and immediately began swapping lesson plans and exchanging creative ideas. The creativity that we use to engage students and change lives is the same creativity we channel into decorating! This past July, Julie and her family met us down in Virginia for a weekend of sun and sand…and of course exchanging decorating ideas.
Jules brought the picture below of her
then
living room and asked my advice. Like so many of us can relate to (except for me because my household has never had cable and our
tube
TV sports hideous bunny ears….yes…ears…uh huh, yeah, your donations and pity are gladly accepted), the room had to be designed around the new flatscreen TV that was soon joining the family.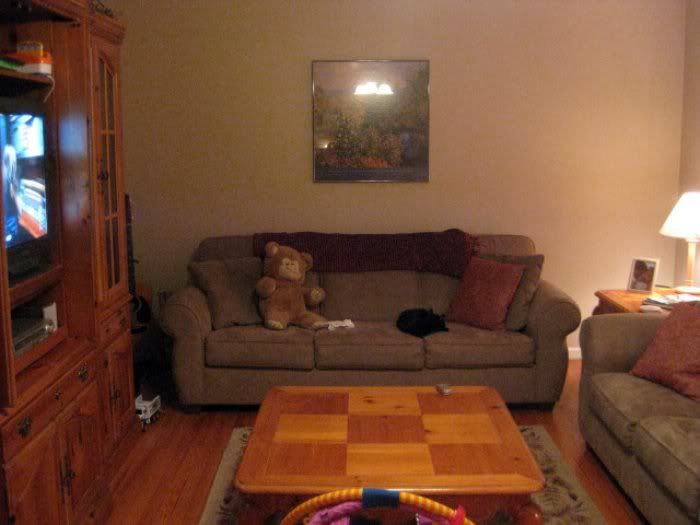 Here's what Julie has to say about the makeover:
We painted, Josh put up
crown molding
, and ended up buying a LOT of furniture (tried to go cheap w/ Overstock…but ended up sending it back and getting
Pottery Barn
). T
he
coffee table
, end table, and bench is also from P
ottery Barn
(ouch, still feeling that one)! And the bookcase was in our garage – it was my Great-great uncles – he used to keep his pipe tobacco in it! I just spruced it up a bit.
Lesson learned? Sometimes, there is just no substitute for Pottery Barn! Jules, your couch looks amazing and I love your bench. It will be a perfect place for toy storage. Great job on repurposing your uncle's pipe cabinet. I'm wondering if you can still smell the tobacco? I love the smell of pipe tobacco ;). Your choice in paint color brightens the entire room and Josh did a fantastic job with the molding.
One of the items up for debate was where oh where to put that TV. I am so glad to see it looking good and out of the way. The fireplace adds the touch of beauty and warmth that was missing before. I'd love to see a chunky jute rug in front of the door, a plant or a grouping of some large pillar candlesticks to the left of the TV and perhaps a sitting chair to the right.


And who doesn't love a photo wall of cute kids? In case you are wondering, yes, her kids really are that adorable and charming in person.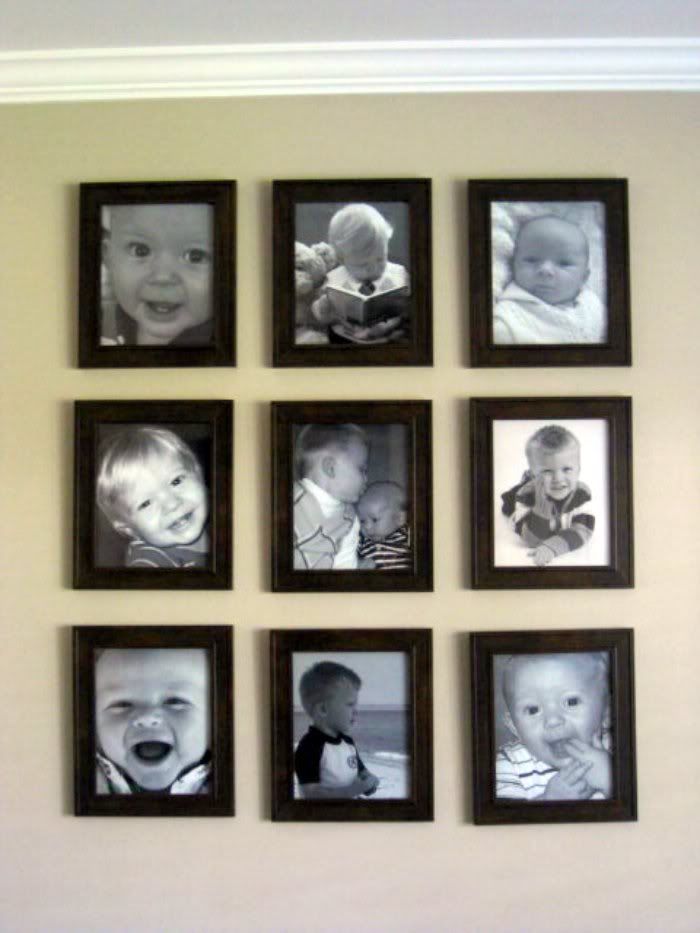 Julie, you did an amazing job! Thank you for allowing me to play a small part in it. Miss you girlfriend. Show Jules some love and let me know you were here by leaving a comment. Everyone loves comments!