Today
AnNicole
is having a uniqe party entitiled, "How I Met My House". I thought it would be fun to reflect on how far my little house has come in the 3 years since our first meeting.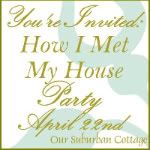 In 2008, we were living quite comfortably in a nice 100 yr old twin right outside of Philadelphia. That is her pictured below with her lovely front porch. And although I enjoyed the area and my home, I wasn't happy. I had two little boys in full time daycare, and it wasn't the way I had envisioned raising my children.
So we began looking for a way which would enable me to stay home full time. Matt found a job, we took a ginormous pay decrease, and with a huge leap of faith, we moved away from our pretty house with the cute little yard.
Around this time, we discovered that some college acquaintances of ours had begun a house flipping business in the city we were moving to. We checked out there work, and I fell in love! It felt like home. Yes, it was a bit more urban than our last neighborhood but all of that history, original heart pine floors, corbels, stained glass windows, turrets, and slate shingles had my heart racing!
We looked around at our immediate neighborhood, which was honestly a bit scary. Our home had been abandoned for 30 yrs and was the product of flood damage. Over the years it had been used for all sorts of sordid and awful activities. Veteran neighbors' let us know that our house was "the worst on the block" and "the one the children were never to go by". Can you here the pride in my voice? And our home's twin wasn't much better. It smelled horrible, was disgusting to look at and also lay abandoned (that is when homeless people weren't living in it). To top it off, over eight other homes on our block alone were rundown and vacant. So why on EARTH would we want to move here?
Because I had caught the vision, that's why! I saw what my friends were trying to do and I completely wanted in. We purchased our home when it looked like this. Nothing. A shell. It had no walls, no floors, nothing inside. A true blank slate for me to cast my dreams upon!
And three months later our house was finished and I was helping my friends spread beauty throughout our neighborhood. I began helping with our twin… (you can see the
full transformation of that home with befores and afters here
.)
And then I started casting a vision for the beauties on the corner….
Here is one of the many photoshopped pics we used in trying to determine exterior paint colors…
And then I was able to help out with other homes in the neighborhood! Here are some random pictures of what my neighborhood looks like now.
Falling in love with my house had everything to do with falling in love with a dream. This neighborhood has been a sort of Cinderella Story in the works, and any story which includes creating beauty out of chaos, and style out of scraps… is a story I want to be a part of!
Don't forget to enter my Pleated Poppy Giveaway!