If you're visiting for the first time, feel free to click on my "popular posts" tab above to see what I'm all about. Welcome and I hope you'll follow!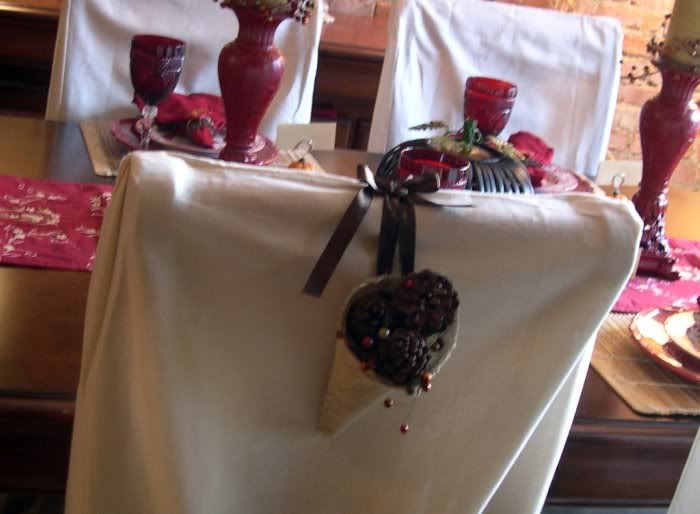 I know tons of you have your Christmas lights and garlands up already, but I'm still working on Thanksgiving over here. In case there is someone out there that is still looking for last minute tablescape ideas, I thought I would show you a cute one that I came up with this afternoon.
Take a paper plate and a scrap of burlap. (You just KNEW you were saving that little scrap for something, didn't you?) Place the plate on the burlap and cut the fabric to the size of the plate.
Roll up your plate into a little cone and secure with some hot-glue.
Cut off the paper plate's ridges at the top.
Wrap your burlap around the cone and secure with hot glue.
Punch some holes in the back of the cone with a hole puncher and run a pretty ribbon through the holes. Stuff the cone with seasonal lovelies and secure with a corsage pin to the backs of your chairs. You could even use these as your place cards by securing a name tag inside the cone. Oooo, that would be cute!

If I were to do this again, I would stuff some moss in the bottom of the cone and then place the pine cones on top. I couldn't see the white of the plate by just looking at the cone, but it shows up in all the photos. Moss my friends. Moss. It's a great cheap staple to have around.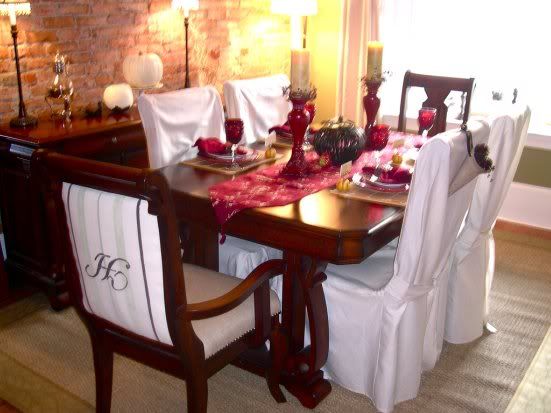 Now just admire how cute your table and chairs look!