For today's do it yourself post, I'm going to give you all my secret online sources for remodeling.  When we bought our 100 year old home two years ago, it was literally a shell.  It had no walls, no floor plan, no nothing.  Our contractor gave me a budget and as long as I stuck to it he was willing to allow me to order whatever I wanted
from
wherever
I wanted!   Doing this long distance meant getting creative.  I combed the internet obsessively and discovered these money-saving tips.
Anytime
you are buying something off the internet, be sure to type into Google the site name plus
coupon or promo code
(ex.
Target promo code
).  You will most likely find codes that give you free shipping, 15% off, etc.  I almost always lower the price of my purchases by taking the time to search for online coupons.
Don't be scared to call Customer Service and
ask for a discount
.  This sounds silly, but you would be amazed at what you can get if you simply ask for it.  Tell them you're on a strict budget and the shipping or freight charges take you over the budget.  Ask them if they'd kindly waive those for you.  The worst they can say is no and in my experience they usually give you some kind of discount.
For all of your bathroom and kitchen faucets be sure to check
Overstock.com
.  They typically are much cheaper than the big home improvement stores.  This beauty below cost around $80 at Overstock and would cost you twice as much at Lowes.  Every faucet in my house came from Overstock (with a
coupon code
and free shipping of course to boot).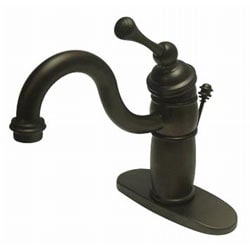 Home Decorators is the special order site for Home Depot.  Their online outlet has some wonderful deals!  I bought a gorgeous Victorian vanity exactly like the one pictured below except with white granite top for under $200 for my boys bathroom.  It was originally covered in roses but nothing a little white paint couldn't transform.
I can almost guarantee that any knob or pull you find will be cheaper at
Woodworkers Hardware.
 But here is a really fantastic tip.  Find the pull or knob you want at Lowes, then find it on the Woodworkers site at a fraction of the cost.  Print it out and bring it into Lowes and they will price match it!  They did it for me so I'm sure they'll do it for you.  If they don't, you can then just order your knobs from Woodworkers.  (Don't forget to ask them to waive the shipping fees.)
6.  BATHROOM HARDWARE & MIRROR
S
This is a tip all you thrifty girls don't even need, but be sure to check Marshall's, Ross, T.J. Max, HomeGoods, and Target for your mirrors and bathroom hardware.  I purchased all of mine from these places and paid a fraction of the cost.  I do best at T.J. Max for mirrors.  
I love Benjamin Moore colors and found their
Personal Color Viewer program
incredibly helpful in trying to decide on exterior and interior colors.  However, don't forget that anything can be colormatched.  A portion of our exterior brick was painted an obnoxious orange-red.  I was getting stressed out trying to find the perfect shade of brick red.  Then it occurred to me that I could bring an actual brick into Lowes to have it colormatched!  I ended up with just the shade of brick red that I hoped for.
I don't have a bunch of Before's and After's of our own home :(.  But I had the privilege of designing and shopping for our "twin".  I designed the floor plan, picked the paint colors, shopped for all light fixtures, hardware, cabinets, vanities, you name it!  It was so much fun.  
Check it out
here.
Enjoy remodeling on-the-cheap!  I'm joining
Kimba's DIY Party
.  Check it out for other DIY tips.