Each week brings a new batch of diy projects, room reveals, tutorials, and tips to the blogosphere. It is my pleasure to highlight just a small portion of the 300+ inspirational projects linked up to my weekly link party. I am in awe of the talent, creativity, and beauty that exists amongst us! Today's projects, tutorials, and tips are TOMORROW'S magazine features. We are privileged to see them first! Enjoy the inspiration.
Board & Batten Dining Room Makeover via Love of Family and Home. This is Tonya's mother's home. Decorating genius obviously runs in her family!
Handmade Neutral Nursery Reveal by Thrifty and Chic. More board and batten in soft dreamy colors. Click through to admire the entire room.
Entryway Makeover by House of Rose. Do you spot a theme here? I am in love with board and batten (which is why I covered my entire first floor with it). 🙂 Click through to see the dramatic before and afters and all of the little projects that went into making this space beautiful.
Entryway Makeover by Morning by Morning Productions. Abby is a girl after my own heart! Like many of us, she is able to see potential where many just see ugliness. This is a very drastic AFTER picture and you simply must see the before to fully appreciate it.
$1600 Kitchen Makeover by Domestic Imperfection. Kitchen makeovers tend to be pricey even when you DIY them. Go see how Ashley was able to keep costs down and create an amazing kitchen in the process!
Change a Bi-fold Door to a French Door Tutorial by 2 Little Superheroes. I despise bifold doors. Is hate too strong of a word? All they do is pinch little fingers and look supbar. This tutorial is fantastic for solving the problem of those doors of the devil.
Ikea Hack Desk by Burlap and Lace. I love how Shannon upped the glam factor on this Ikea desk. Go see how she did it!
Newel Post Tutorial by Beneath My Heart. This project is on my to-do list and Traci's tutorial gives me hope that I can pull it off fairly easily!
Headboard Candlesticks by No. 631. Brandy had an old headboard and transformed it into these gorgeous candlesticks. I'm on a hunt for an old headboard now!
No Sew Stenciled Faux Roman Shade Tutorial by Balancing Home. Go see how she made it.
No Sew (No Paint) Striped Curtain Tutorial by Life. Love. Larson. We've seen a lot of painted striped curtain tutorials but these curtains aren't painted and there was no sewing involved!
Pop of Color Tutorial by Charming Zebra. I love it when creatives come up with unexpected ways to decorate an object!!
Painted Chair Legs Tutorial by Making Home Base. Another unexpected place to add a pop of color!
Cross-Stitch Dresser by Dear Emmeline. Isn't this a creative idea for furniture painting? I see more of it in our future!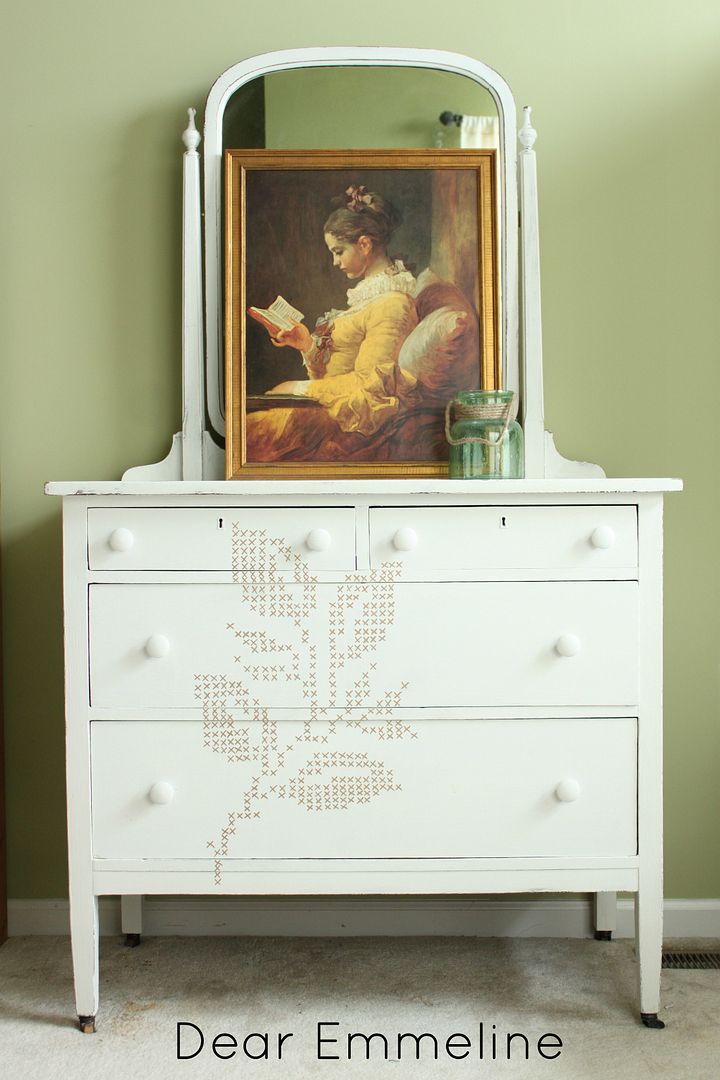 Tea Bin Table by Miss Flibbertigibbet. This is a true trash to treasure project.
Alphabet Stain Stenciled Lazy Suzan Tutorial by Pondered Primed Perfected. Love that the stencil was created with stain instead of paint on this project.
Jute Rope Knob Tutorial by Lake Girl Paints. If you have some rope laying around you have all the makings for a cute knob for your furniture. Come see how to create your own.
How to Deep Clean Your Bathroom Naturally by Clean & Scentsible. I thought I knew how to clean my bathroom but Jenn gave some tips that I'm excited to try. Okay, maybe "excited" and "cleaning bathroom" don't really belong in the same sentence but you know what I mean :P!
15 Inexpensive Ways to Getting Healthy & Fit by Free Stylin'. My weight has gotten a bit out of control this winter so I'm grateful for some sensible tips. I'm skeptical of this smoothie, but I'm going to try it.
Reese's Peanut Butter Cup Mini Cheesecake Recipe by Mom on Timeout. Hmmmm. Maybe pinning and making items like this is the reason I'm having difficulty with my weight! But, wow! These look amazing.
Fantastic inspiration eh? Be sure to show them all some click through and pinterest love as "payment" for sharing their tutorials and tips with all of us!