Office Reveal by Perfectly Imperfectly. This room was gorgeous before so it is hard to believe that it just became even more beautiful!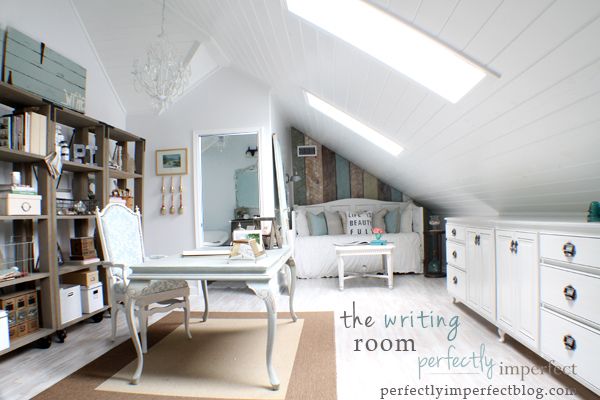 Kitchen Reveal by The Money Pit. Beautiful transformation of a dated kitchen!
Study Nook Cloffice by Painted Home Designs.
Chalkboard Wall Frames by Charming Zebra. I love the simplicity of this focal point!
DIY Locker Accessories by Sassy Style Redesign. I think it's safe to say that her daughter will have the cutest locker in the school!
Napkin Covered Drawer Pull by In My Own Style. Pure genius!
Spoon Mirror by Little Things Bring Smiles. These look like so much work but create such a big impact.
 How to Create Easy Pillow Slipcovers by Bungalow. As a fellow toss pillow addict, I heart all tips on pillows!
Faux Fireplace Makeover by Sophia's.  The chalkboard "fire" is adorable :).
Blue and White Kitchen Table Reveal by Design Stash.
Cherry Blossom Bureau by Reposhture. I am loving all of the peekaboo wood stenciling we are seeing lately. This piece turned out beautifully!
Pinstriped End Table by Liz Marie.
How to Build a Vintage Toolbox by Turnstyle Vogue. This looks easy to do and creates a fantastic fall accessorie!
How to Build a Trumeau Mirror by Sew Woodsy. The tutorial for this project is long and very thorough with beautiful end results.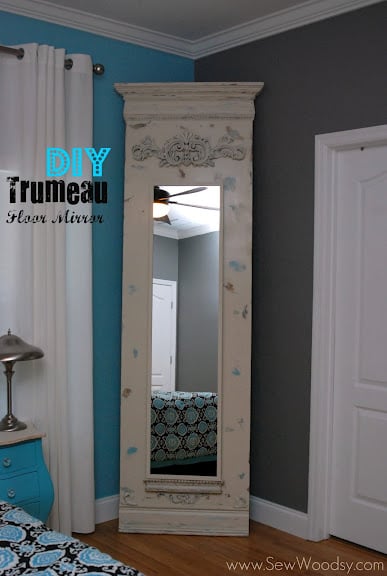 How to Handpaint a Sign in Any Font Without a Stencil by That's My Letter. Many times the best tips are the simplest!
Magnetic Makeup Organization by Christina's Adventures. I have been wanting to do this for awhile. Wouldn't it be great if our makeup just came with magnets on the back :)?
Gluten Free S'mores Cupcakes by Design, Dining & Diapers. My boys eat gluten free and would love these cupcakes! This recipe is easily adapted to those who are gluten eaters as well.
Thanks to everyone for linking up and linking back! Your projects and talent never cease to amaze and inspire me! I'll see you tonight at the party.