When I was in college, friends would get a good immature laugh out of saying the words "in bed" after reading any fortune cookie fortune.  I feel like saying "in the bathroom" after Christmas has the same giggly effect on me.  Yes.  Apparently my maturity level was developmentally arrested around age 20.  I'm cool with that.  Okay everyone,
hee hee hee
, let
Christmas in The Loo
begin!
Awhile ago, a friend of mine was whining that she didn't have a fireplace to decorate for Christmas.  Yesterday at the dollar store, I found these gorgeous white stockings and I knew I wanted to prove that Christmas doesn't always have to happen around a fireplace.  I didn't know at the time that I would be using them in my bathroom.  
This is an important fact and tip.  I rarely, if ever, have a plan for the things I buy.
  Don't get me wrong.  I'm not at all wasteful or extravagant.  If I really like something and if it is really cheap, I will buy it.  Experience has taught me that I will find a purpose for things that inspire me.   
The wreath below was purchased at the dollar store.  I already had the platter which was also a dollar store find, and the faith sign came from Michaels dollar spot (are you sensing a theme here?).  The H is recycled and the shells are all finds from the beach.  My family has made fun of me my entire life for collecting and keeping shells.  Bet they're not laughing now, are you family?  How do ya like dem shells now? Huh people?
I glued sand dollars to some sea stars and secured them to the wreaths with my trusty glue gun.  I used beading wire to attach the wreaths to the wood thingy.  The lonesome sand dollars you see were shells I dove for while in the Bahamas.  I snuck those babies through customs all rotting and smelly.  When sand dollars are alive they have a fuzzy skin on them that you have to bleach off.  One of my sand dollars still sports a bleach stain where I went a bit overboard. It smelled like death.  It needed a LOT of bleach!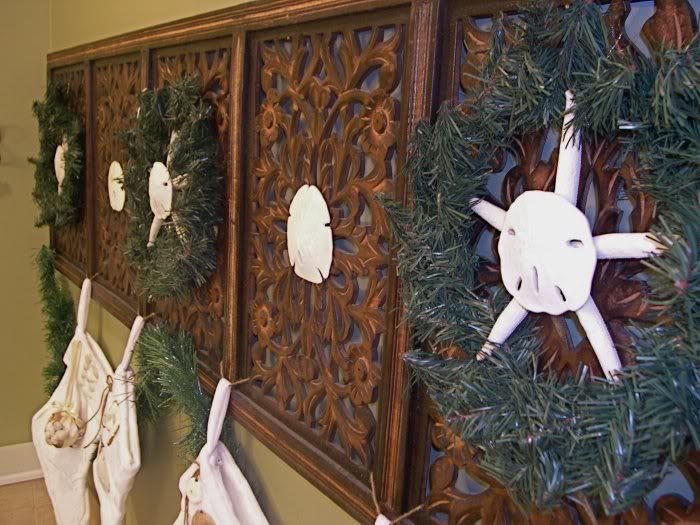 Do you see that pretty corked bottle in the far left corner of the picture?  The cork was a recent addition, but the bottle is eleven years old. 
When Matt proposed to me, he wrote a very long message in a bottle that was attached to various tags with twine and shells in between. At the bottom of the bottle and at the end of his words of love, was my ring :).  I know.  He is amazing. And yes, in case you are wondering he has a brother, but I don't think his wife would appreciate you asking ;).  
I hot glued shells to create the B for my stocking and garnished the stocking with my
shell kissing ball
.
The H was made from three similar shells that were n0t fully cleaned.  I like how the rustic shells compliment the twine.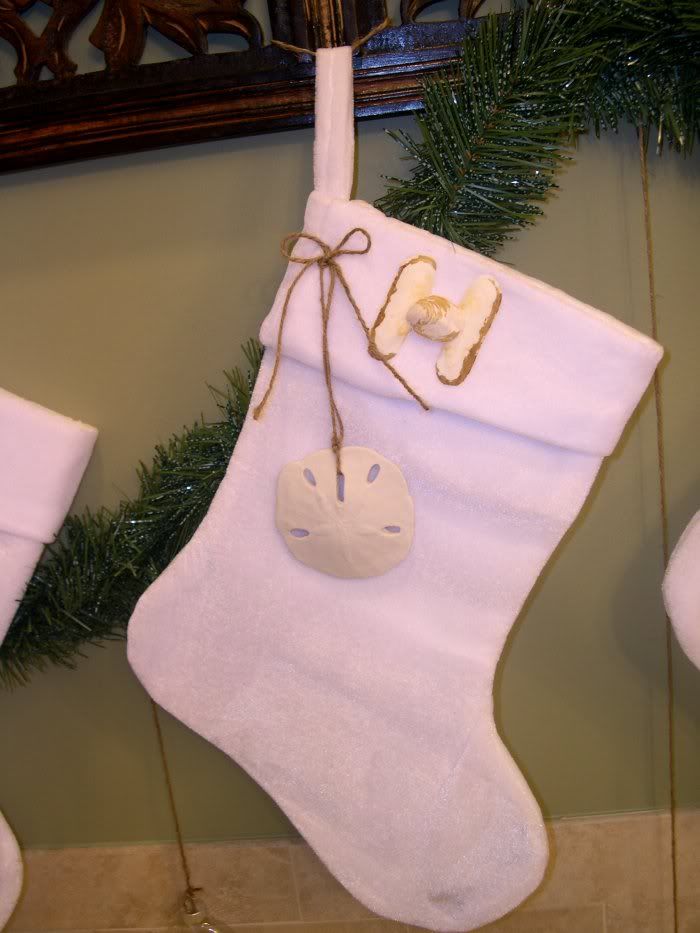 This stocking below received a smattering of my favorite shells and my best beach bauble.
And Matt's stocking received a more masculine monochromatic and simple look.
The glass orb ornaments were a 50% off Hobby Lobby find, and I'm thrilled with them.  They are flat on both sides which makes them perfect for hanging near the wall.  I filled half of the ornaments with Epsom salts….

…and the other half I filled with bubble bath!  While in the tub, I can just empty my ornaments into the water to create a luxurious bath.  A set of these stuffed inside a shell stocking would make the cutest gift!  If you steal that idea, please link to me and give me credit :). 

My toilet wasn't neglected in the coastaling process either.  I shopped the house by adding some sticks I had in the dining room and a lantern from the kitchen.

When all the candles are lit, it looks simply magical.  Sigh. I may never want to leave.

I love it.  And the total cost of this Coastal Christmas Bathroom was $10.  Proving once again that it doesn't have to cost a lot to be gorgeous!
If you stopped by, please leave me a comment.  They are like little presents to me.  And I LOVE little presents!